"Part-Time Pro" Lecture Notes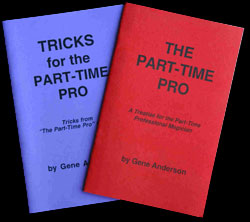 The debut of "The Part-Time Pro" lecture was for the Academy of Magical Arts in Hollywood in 1975. It earned me a nomination for Lecturer of the Year, and I was simultaneously nominated for Visiting Magician of the Year for that week's performances at the Magic Castle. Since then new editions of the "Part-Time Pro" lecture have been presented throughout the USA and in ten other countries. The premise is that many magicians do something other than magic for a living, but they also wish to perform magic for professional fees. "The Part-Time Pro" notes (red cover, 20 pages, 5 1/2 x 8 1/2 inches, saddle stitched) details a 10-step framework for developing your own show, (stage, parlor or close-up) and includes assembling the trick list, writing a script, practicing, rehearsing and developing new material. These notes are the basis of "The Part-Time Pro" lecture section on the Gene Anderson DVD.
The red booklet was the latest edition of the lecture notes, but that material is now a chapter in The Book where is almost twice as long. It still builds on that basic ten-step concept, but has many more examples and personal experiences. I do still offer the red booklet, but now you know about a better alternative: The Book.
"Tricks for the Part-Time Pro" notes (purple cover, 24 pages, 5 1/2 x 8 1/2 inches, saddle stitched) describes eight tricks. They were chosen because of the basic magic principles they employ and the methodology illustrated when springboarding on these principles to update effects. For example, Picto Transpo (7 pages, 18 drawings) describes how to make your own Picto Transpo set using posterboard. I used posterboard for 30 years before switching to alternative surfaces, and a 15-page chapter in The Book is devoted to Picto Transpo. In fact, the only effects in the purple notes that are not in The Book are a three-phase coin-in-nest-of-boxes routine, a loose buttons rigging for your suit and vest, and a wand from purse.
The Red and Purple lecture notes are still on the website because some collectors have asked for them. What else can I tell you? They are available, so order them if you wish.